Regional Results - September
2 October 2018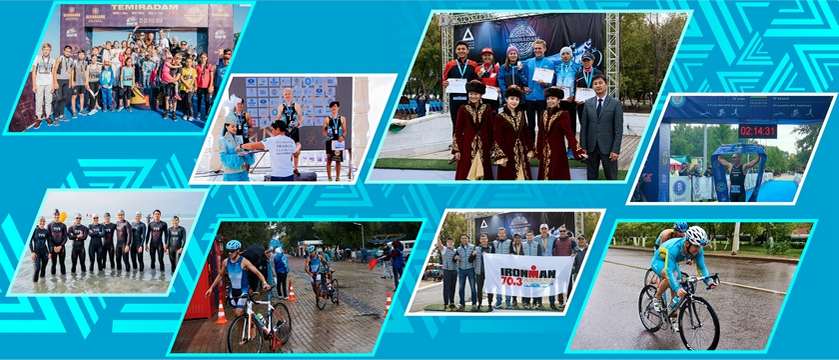 This September, for Kazakhstani triathlon fans there were a lot of interesting events and became the month of bright debuts. Two Kazakhstan's regions has come upon a "baptism" of fire by holding national triathlon competitions for the first time.
Thus, on September 8-9, a two-day triathlon competition took place for the first time in Karaganda. On the first day of competition, elite athletes competed in the "standard" distance as part of the 3rd stage of the Cup of the Repuclic of Kazakhstan. And on the second day, Age Group category athletes took part in the half-final IV stage of the TEMIRADAM Cup. They experienced their strength at the same "standard" distance, where professionals had competed the day before. In total, 96 athletes from Astana, Bishkek, Almaty and Almaty region, as well as from Pavlodar, Karaganda, Turkestan, Kyzylorda and Akmola regions took part in the two-day competitions in Karaganda.
All technical delegates and judges of the competitions highly appreciated the level of organization and holding in Karaganda, which was the result of the hard work of the triathlon federation of the Karaganda region.
September 22-23, near the beautiful city located on the shores of the Caspian Sea - there was a debut of the Aktau city in our competition calendar. Within the framework of the Cup of the Republic of Kazakhstan and TEMIRADAM Cup finals, a two-day competition took place. It is worth noting the special support of the local akimat and residents in organizing these triathlon competitions in Aktau, which coincided with such significant events as the celebration of the 55th anniversary of the city and the holding of traditional "National games".
On the first day of competition in Aktau, the winners of the Republic Triathlon Cup final among Elite athletes were determined, and on the second day, the Age Group athletes won the half-iron distance and fought for the TEMIRADAM winners' title. A total of 81 athletes from different regions were able to experience not only their endurance and strength, but also a new route on the embankment of the Caspian Sea.
Along with Elite and Age Group athletes, the treadmill in Aktau has been tested by both children and women. Thus, children aged 5 to 17 years took part in the "TEMIR BALA" children's run, and girls aged 18 and over had the opportunity to participate in the "TEMIR ARU" women's run.
All participants and fans of the competition in Aktau were satisfied with the level of organization of the start. We are convinced that these competitions are just a "laid stone" of a large professional and amateur triathlon in Karaganda and Aktau, and that in several seasons large-scale triathlon competitions will become common and traditional in these cities.
---