Iskakov Meirlan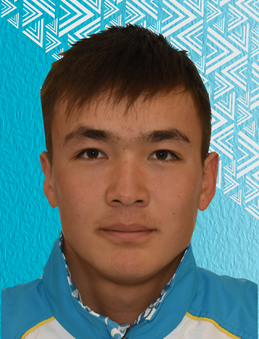 Date of birth: 02.05.1997
Age: 23
Sex: male
Growth: 176 sm
Weight: 62 kg
Sport Grade: Master of sports
Registration number:
Действителен до:
Coach: Пихидько Сергей
Meirlan Iskakov is a graduate of one of the strongest triathlon schools in the Republic of Kazakhstan - a triathlon school in the Akmola region. The athlete is at 5th place in the national ranking.
He speaks Russian and English.
The highest achievement is the 2nd place at the 2018 Cholpon-Ata ASTC Central Asian Championships.
Latest Athlete Results
2020 Playa Hermosa PATCOSprint Triathlon Panamerican Cup and Central American&Caribbean Championship

2020-03-01, Playa Hermosa, Costa Rica, sprint

15
M-Elite
01:00:53
2019 Almaty ASTC Sprint Triathlon Asian Cup

2019-08-03, Алматы, sprint

17
m-elite
00:59:16
5-я летняя спартакиада Республики Казахстан по триатлону на стандартной дистанции

2019-07-20, Караганда, standard

4
M-Elite
01:52:57
Чемпионат Республики Казахстан по триатлону на стандартной дистанции среди атлетов категории U23

2019-07-06, п. Бурабай, standard

2
M-U23
02:02:23
Cholpon-Ata ASTC Sprint Triathlon Asian Cup and Central Asian Championships

2019-06-29, Cholpon-Ata, sprint

4
M-Elite
00:59:29
ASTC Triathlon Asian Championships

2019-06-22, Gyeongju, Korea, South, Other

3
M-Elite
01:53:56
2019 Shymkent ASTC Triathlon Asian Cup

2019-05-25, Шымкент, standard

9
M-Elite
01:58:50
CAMTRI Triathlon American Cup

2019-02-23, Habana, Cuba, standard

7
M-Elite
01:53:16
ASTC Sprint Triathlon Asian Cup and East Asian Championships, Sokcho

2018-08-18, Sokcho, sprint

19
M-Elite
00:58:06
2018 Almaty ASTC Sprint Triathlon Asian Cup

2018-08-04, Алматы, sprint

9
M-Elite
00:56:19
Чемпионат Республики Казахстан, Костанай

2018-07-21, Костанай, standard

4
M-Elite
02:04:33
Cholpon-Ata ASTC Sprint Triathlon Central Asian Championships

2018-07-07, Cholpon-Ata, sprint

2
M-Elite
00:58:10
ЧРК, спринт, Шымкент

2018-04-21, Шымкент, sprint

2
m-u23
01:01:11
ЧРК, спринт, Шымкент

2018-04-21, Шымкент, sprint

3
m-elite
01:01:11
ЧРК, супер-спринт ITT, Тараз

2018-04-15, Тараз, super_sprint

4
M-U23
00:23:44
ЧРК, супер-спринт ITT, Тараз

2018-04-15, Тараз, super_sprint

5
M-Elite
00:23:44
Чемпионат РК по триатлону

2017-08-13, г. Кокшетау, standard

2
m-u23
01:50:59
Чемпионат РК по триатлону

2017-08-13, г. Кокшетау, standard

2
m-elite
01:50:59
2017 Sharm El Sheikh ATU Sprint Triathlon African Cup and Pan Arab Championships

2017-04-08, Sharm El Sheikh, sprint

15
m-u23
01:03:15
2017 Sharm El Sheikh ATU Sprint Triathlon African Cup and Pan Arab Championships

2017-04-08, Sharm El Sheikh, sprint

15
m-elite
01:03:15
2017 Quarteira ETU Triathlon European Cup

2017-04-01, Quarteira, standard

47
m-u23
01:54:53
2017 Quarteira ETU Triathlon European Cup

2017-04-01, Quarteira, standard

47
m-elite
01:54:53