Alexander Vinokurov became Ironman 70.3 World Champion in Nice
9 September 2019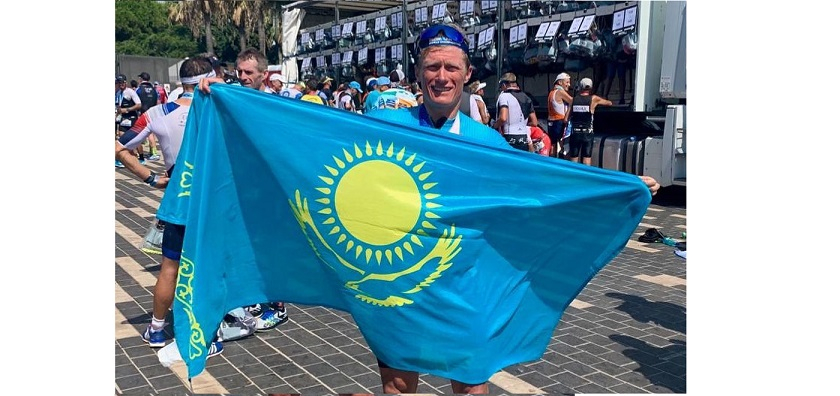 Yesterday in the capital of the Cote d'Azur in French Nice, the Ironman 70.3 World Championship was held at the "half-iron" distance. About 5,000 athletes from around the world gathered to experience one of the world's most famous triathlon courses. Among them were Kazakhstanis who won the right to compete for champion titles.
The best result not only among our athletes, but also among 507 participants in the M45-49 age group was demonstrated by the honorary member of the Kazakhstan Triathlon Federation, Olympic champion Alexander Vinokurov. He was able to overcome the distance in 4 hours 28 minutes and 47 seconds. This is the 92nd result among all participants in this championship.
The "Diamond Lady" of the Kazakhstan triathlon, participant of the Ironman 140.6 World Championship in Kailua-Kona and Kazakhstan champion among amateurs Nagima Kerimbaeva became 81st in her age group, where 531 women performed. Her result is 5 hours 44 minutes and 40 seconds.
Aleksey Sidorenko, racing in the M35-39 years old, finished with time 5 hours 10 minutes and 32 seconds. In the same category, Baizhan Kanafin conquered the distance and showed the time 5 hours 19 minutes and 33 seconds. Another Kazakhstani Zhanbulat Kadyrov finished with a result of 5 hours 44 minutes and 37 seconds in the M45-49.
This start was also interesting because in the PRO category there was the two-time Olympic champion in triathlon, world champion in 2009 and 2011 in the overall standings, Aistair Brownlee, who took second place with a time of 3 hours 55 minutes and 19 seconds. The winner was Norwegian Gustav Iden, which is in 9th place in the ranking of the World Triathlon Series. He turned out to be better than Brownlee by 2 minutes and 25 seconds. Three of the best professionals in men were closed by two-time European champion Ironman 70.3, American Rodolphe Von Berg with a result of 3 hours 56 minutes and 45 seconds.
Among the professional "iron" ladies, the legendary Daniela Ryf (four-time Ironman 140.6 world champion and already five-time Ironman 70.3 world champion) became the winner. Her final time in Nice is 4 hours 23 minutes and 04 seconds. The second place went to Holly Lawrence from Britain, who became Ironman 70.3 Mooloolaba world champion in 2016. She lost to Ryf for more than 4 minutes. "Bronze" was awarded to Simmonds Imogen for the result of 4 hours 28 minutes and 10 seconds.
---