Arina Shulgina and Ayan Beisenbayev won the first national triathlon championship after the pandemic
10 April 2021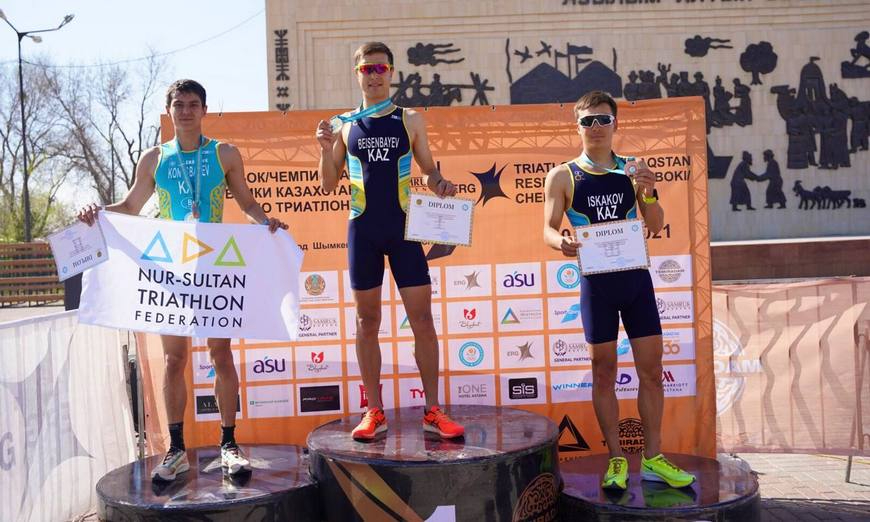 Today in Shymkent, the first competition after the pandemic was held under the auspices of the Kazakhstan Triathlon Federation - the National Super-Sprint Triathlon Championship of the Republic of Kazakhstan. The competition was attended by 17 Elite athletes from Nur-Sultan, Almaty, Shymkent, Akmola and Kostanay regions.
Shymkent met the participants of the national championship with wonderful sunny weather, which allowed them to put all their skills at a distance. In order to comply with sanitary requirements and ensure safety, the athletes started with a gap of 2 minutes.
Women's race
There were no big surprises in the women's race. The representative of Almaty, Yulia Ozerova, who took the lead from the very beginning of the race, could not hold the first position. Arina Shulgina (Kostanay region) took the lead at the bike stage and managed to keep her run smoothly to the finish. As a result, Shulgina became the strongest with a result of 26 min. 42 sec. Having shown a high result at each stage, she rightfully tried on a gold medal. The second was an athlete from Nur-Sultan - Ekaterina Shabalina. Her time is 27 min. 24 sec. The top three winners were closed by Julia Ozerova with a time of 28 min. 48 sec.
Men's race
In the men's category, after the swimming program, Ayan Beisenbayev from Akmola region took the lead. Ayan managed to maintain his position and become the owner of the gold medal. Winner's time - 23 min. 53 sec. A serious struggle broke out for the second and third places. Before the start of the running program, Temirlan Temirov (Akmola region) pretended to second place. But with the best run in the championship (6 min. and 20 sec.) Daryn Konysbaev snatches silver from an opponent. The total time of Daryn is 24 min. 11 sec. Bronze went to another representative of Akmola, Meirlan Iskakov (24 min. 12 sec.).
Note that the event was held in compliance with all sanitary requirements, including the wearing of protective masks and social distancing. All participants, including the organizers, were admitted to the event with a negative PCR test for COVID-19.
This championship in Shymkent is the opening of the season for Kazakhstani professionals since the beginning of the pandemic. The next start for members of the national team will take place on April 23-25 ​​in Hatsukaichi (Japan). The Asian Championship will be held here, in which the coveted points in the world ranking will compete.
We remind you, that the events were organized with the support of the general partners: the National Welfare Fund Samruk-Kazyna JSC, the Samruk Kazyna Trust Social Projects Development Fund and the Eurasian Resources Group, also financial partner Sport Qory Tourism and Sports Industry Support Fund.
---