2021 Asian Triathlon Championship Hatsukaichi: Kazakhstanis entered the top 10
24 April 2021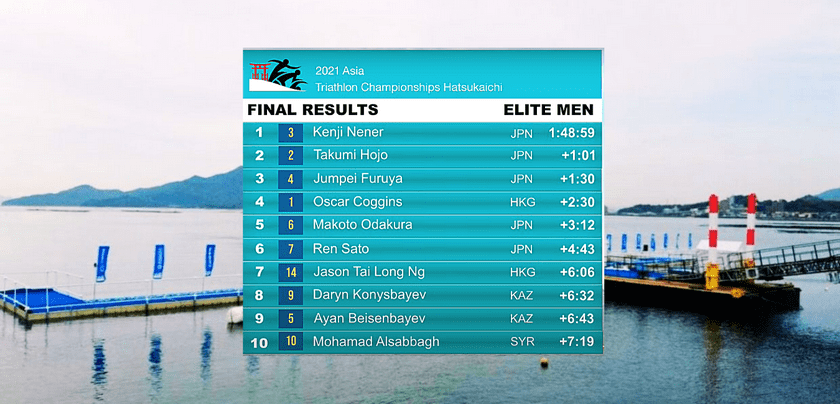 The 2021 Asian Triathlon Championship Hatsukaichi ended today in Hatsukaichi. The race was held at a standard distance, which consisted of swim 1500 m, cycling 40 km and running 10 km.
More than 50 Elite athletes from Japan, Iran, Kazakhstan, Uzbekistan, Syria, the Philippines, South Korea, Hong Kong, China and Mongolia took part in the race.
In the men's race, Daryn Konysbaev had a best result among our athletes. He finished in eighth position (1 h 55 min 31 sec), 6 minutes 32 seconds behind the winner. On the ninth line is Ayan Beisenbaev, who finished in 1 hour 55 minutes and 42 seconds. Another representative of our country, Semion Pivovarov, showed the nineteenth result - 2 hours 1 minute and 29 seconds. Anuar Turubaev and Alexander Avtushko could not complete the race.
The male pedestal consisted of Japan representatives. The first result of the day was demonstrated by Kenji Ninar - 1 hour 48 minutes 59 seconds. Takumi Hojo lost more than 1 minute to him and won the silver. Jumpei Furuya closed the top three, losing 1 minute and 30 seconds to the leader.
In the women's race, the best result among Kazakhstanis was shown by Arina Shulgina, who finished fifth. Her result is 2 hours 11 minutes and 6 seconds. Ekaterina Shabalina took the sixth position with the 2 hours 11 minutes and 13 seconds.
The winner in the women's category was the Chinese Mengyong Zhong with a score of 2 hours 8 minutes and 10 seconds. The second and third places were taken by Japanese Yuka Sato (+2: 22) and Ai Ueda (+2: 27), respectively.
All results of the continental championship can be viewed here.
---