Aktau will host the 2021 Triathlon Final!
20 September 2021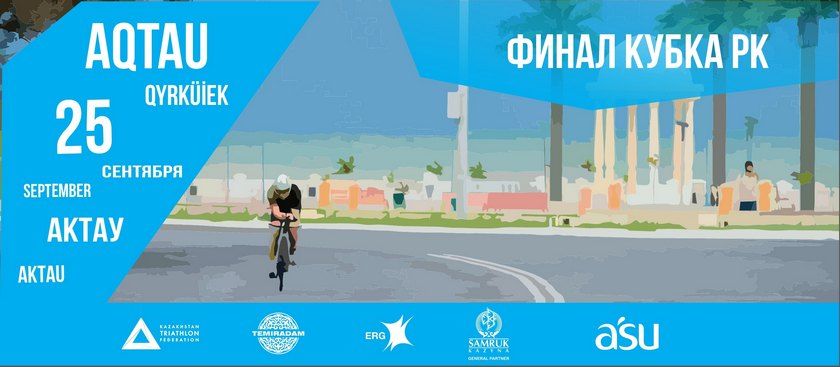 On September 25, on the picturesque coast of the Caspian Sea, the final republican triathlon events will start. On this day, Elite and U23 athletes will be the first to enter the starting line, who will compete in the Final of the Open Cup of the Republic of Kazakhstan in the Olympic distance. U19 athleteswill compete in the sprint distance.
On September 26, two events will take place at once - the Open Championship of the Republic of Kazakhstan among professional athletes and the TEMIRADAM Cup Final among Pro and Age Group categories. All athletes will cover the middle, better known as "half-iron" distance - 1900 m swim, 90 km bike and 21 km run. More than 130 triathletes from all over Kazakhstan are expected to participate.
Event organizers: Committee for Sports and Physical Culture of the Ministry of Culture and Sports of the Republic of Kazakhstan, National Olympic Committee, Kazakhstan Triathlon Federation, Akimat of Mangistau region.
With the support of the general partners: of the National Welfare Fund Samruk-Kazyna JSC, Sport Qory, the Eurasian Resources Group, and the Samruk Kazyna Trust Social Projects Development Fund.
Informational support: Committee for Sports and Physical Culture, WE Project Media.
Location: Aktau, Rixos Aktau Hotel
Start: 08:00
Head technical delegate: Mikhail Kuznetsov
Contact
Kazakhstan Triathlon Federation, LLP
010000, Nur-Sultan, Esil, Kabanbai batyr av., 53, office 208
+7 777 306 77 11
---