Triathlon in Kostanay
6 August 2022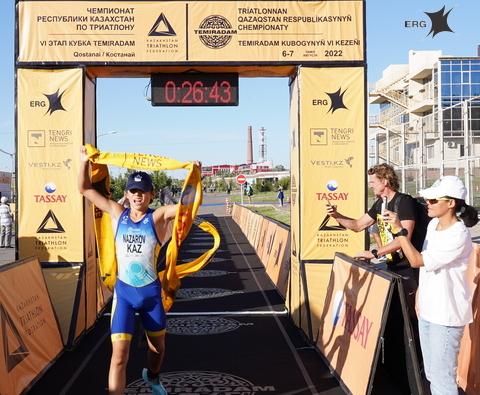 On August 6 in Kostanai two triathlon championships took place: the Championship of the Republic of Kazakhstan in the mixed relay among the athletes of Elite category and the Championship at the distance of super sprint with a group start among U19 and U15. Participants from Kostanai, Akmola, Kyzylorda, Zhambyl, Turkestan, East Kazakhstan oblasts and the cities of Nur-Sultan, Shymkent and Almaty were represented. In the Elite category alone there were 5 teams of 40 people on the start. Among them were the strongest triathletes of our country - winners of international and national championships in triathlon.
The northern region welcomed athletes, organisers and guests of the tournament with clear sunny weather. From the early morning the Tobol river embankment was filled with a pleasant bustle of athletes, who already at the transit area set themselves up for a serious fight in overcoming the distance of 300 meters of swimming, 8 kilometres of cycling and 2 kilometres of running.
The largest category among the competitors was the U15-M. There were more than 50 of them. They showed a dynamic start from the very first stage. First at the finish line was Said Nazarov (Almaty), who stepped up his strength on the running distance. Second came Ainegov Ramazan (Nur-Sultan) and closed the top three winners with Petrov Sergey (Akmola Oblast).
Among girls U15 Diana Erzhanova (Nur-Sultan) was the first to finish the three stages, second and third places were taken by Anel Isabaeva and Yuliana Petrova from Akmola Oblast, who stayed together during almost all the races.
And, of course, the most spectacular was the Elite category race. Egor Kruplyakov, a member of the Almaty team, pulled away from his rivals in the first heat and was the first to pass the baton to the next runner in his foursome. As a result of a successful start, the team from the southern capital deservedly took the winner's podium. Second team place in the relay was taken away by the capital team. And for third place, Shymkent and the host city of Kostanai fought with a gap of exactly one minute. At the finish line, Yulia Ozerova cut that time and earned her team a bronze medal.
And the final race of the day was the U19 Super Sprint. Three representatives of the Almaty team, Danil Porodnov, Egor Krupyakov and Sasha Ten, joined the top three in the U19-M category. Eva Pinchuk (Nur-Sultan) was first in U19-F, Lysana Savchenko (East Kazakhstan) came second and Aydana Bekbergen (Kyzylorda) rounded out the top three.
---